Introduction
[
]
The
Evolve Menu
 grants Aliens the access to new
Lifeforms
and
Traits
. It can be accessed via the
B
key (Default). It also contains information on your teams compostion, which
Traits
are currently available and which abilities have been unlocked by the
Alien Commander
. Use the mouse to select the desired
Lifeform
and
Traits
and click the big button in the bottom center to evolve.
Lifeforms that can currently not be afforded, are displayed in red. Hovering the mouse over any Lifeform, Trait or ability displays additional information.
There are Mods available to enable hotkeys for Trait evolution.
Evolve Menu

Opens the Evolve Menu to purchase different Kharaa lifeforms and available Traits using Personal Resources.
Hotkey

B

Targets
Lifeforms
Requires
Valid ground to spawn player Egg
Example
[
]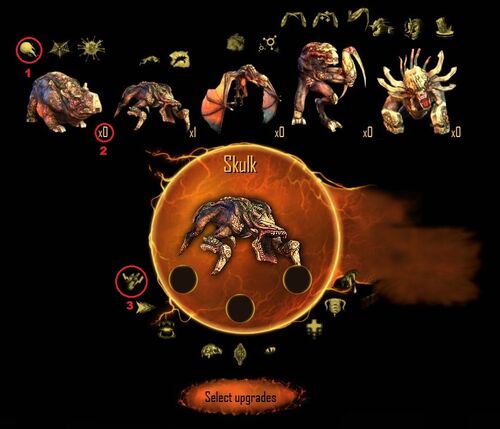 Shows which abilities have been unlocked by the Alien Commander.
Shows how many of this Lifeform are already on your team.
Shows which Traits are currently available to your Team.
Gallery
[
]