Jurassic World: Dominion Dominates Fandom Wikis - The Loop
Play Sound
Date: September 16, 2016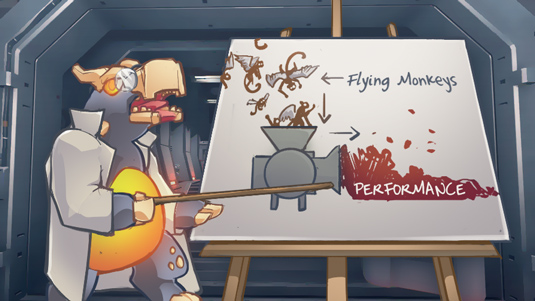 Highlights
New version of LuaJIT
Removed old/unusable model source assets reducing install size of NS2 by roughly 1.3Gb

Changelog
Tweaks/Improvements
Upgraded LuaJIT to Version 2.1

More code is jittable now (runs slightly faster on average)
String operations have been improved which helps with our GUI code
Switched to JIT specialized table functions

Crash dump always saved before showing report dialogue and command line switch to enable a full dump if requested
Add icon which will flash on screen when a client encounters a script error
Fixes
Fixed Trace object field access unintentionally always failing to JIT.
Fixed script error when Alien Commander failed to place a Cyst
Fixed script error when Alien Commander failed to place a Drifter
Fixed script error when a ViewModel's parent entity has been destroyed
Fixed that rifles sometimes cause a script error because its cinematics have already been destroyed
Fixed script error caused by entering hive after activating xenocide
Fixed script error caused by code not expecting there to be nil entries in an entity list
Tools
SDK
Added ErrorCallback Lua event that is fired every time there is an Lua error. The error message is passed as the first argument of the event
Added `display_errors` console command which will trigger a popup if there is a script error so you don't need to dig through logs to find the first one. You can also activate this by using the `-debug` launch option.
Removed out of date and unusable model source assets from NS2 install. This reduces the install footprint by roughly 1.3Gb. The files can still be accessed on the "build_307" Steam branch.