| | |
| --- | --- |
| | This article is currently under construction. |
Play Menu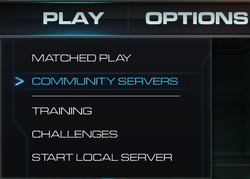 The Server Browser is the in-game tool to join Community Servers. Community Servers are all servers that are not Matched Play servers or self created Local Servers.
Within the Server Browser the Player can either choose Quickplay to let the System automatically choose the server it deems most suitable for the player, or manually choose a server themselves, utilizing Filters.

Server Browser

1: Quickplay: Let the system choose a server for you.
2: Favorites: List all servers you added to your favorites.
3: History: List servers you played on in the past.
4: Game Modes: Filter certain game modes like regular NS2, Combat, Siege, etc.
5: Filters: Apply filters to your server list.
Filters
You can enter a Server or Map name to restrict the results, choose to show/hide Passworded, Empty, Full, Unranked and/or Bootcamp servers, choose a minimum performance for servers to be listed from BAD < STRESSED < OK < GOOD, a maximum ping between 25 and unlimited and how to handle blocked servers: show, exclusively show, or hide them.